Update for the Week Ending January 15, 2016
Site Mobilization Continues
On-going activities:
Continued mobilization of equipment and supplies;
Continued winterization activities for the Water Treatment Plant (WTP);
Continued the assembly of the Temporary Containment Building (TCB) base frame;
Continued the assembly of the grout plant;
Continued the installation of Site electrical service for the WTP and TCB vapor management system (VMS);
Installing the decontamination pad for washing trucks and equipment that will exit the Site;
Continued the application of water and calcium chloride for dust control;
Continued the application of odor suppressant foam as needed for dust and odor control; and
Maintained erosion and sediment (E&S) controls (Installed waddles - wood chip filled fabric tubes - around the Site perimeter to prevent silt and sediment from leaving the Site).
Recently completed activities:
Conducted a small, shallow preclearance test pit to inspect the outer edge of the Holder No. 2 tank and collected soil samples for the preparation of grout/soil mix cylinders to be tested for strength and permeability prior to beginning the bucket soil mixing (BSM).
Upcoming activities:
Decommission former monitoring wells within the excavation area;
Assemble the TCB superstructure over the Holder No. 2 tank and install the VMS;
Commission the grout plant and conduct the BSM demonstration test in the Holder No. 2 tank;
Conduct a Level A subsurface survey in Kent Avenue;
Install the WTP treated water discharge line beneath Kent Avenue to tie into the NYCDEP sewer line;
Install electrical service from Con Edison and demobilize the temporary generator from the Site; and
Install dewatering wells, initiate ground water extraction, and begin operation of the WTP.
Community Air Monitoring Plan Summary
Community air monitoring, initiated on Tuesday, December 1, 2015, continues as intrusive (ground disturbance) activities are conducted. 
There were no fifteen-minute Action Level exceedances of Total Volatile Organic Compounds (TVOCs) or odors associated with Site activities during this reporting period.
A fifteen-minute Action Level exceedance for particulate matter (PM-10) [average dust concentration] occurred on January 12, 2016 at air monitoring station 3 (AMS-3) from 9:22 a.m. to 9:33 a.m.  This exceedance was due to dust from breaking clean asphalt and concrete in preparation for excavating a test pit over the Holder No. 2 tank.  Odor/dust suppressant foam was applied to the area, and dust levels returned to below the Action Limit.
If you have any questions or comments about the work on the Site, please use the Williamsburg MGP Telephone Hotline at (718) 403-3053.
Photos of Activity
Winterizing water treatment plant components
Layout and assembly of the temporary containment building (TCB) base frame over the Holder No. 2 tank
Assembling the TCB base frame
Mobilizing the TCB superstructure frame and components
Assembling the TCB superstructure frame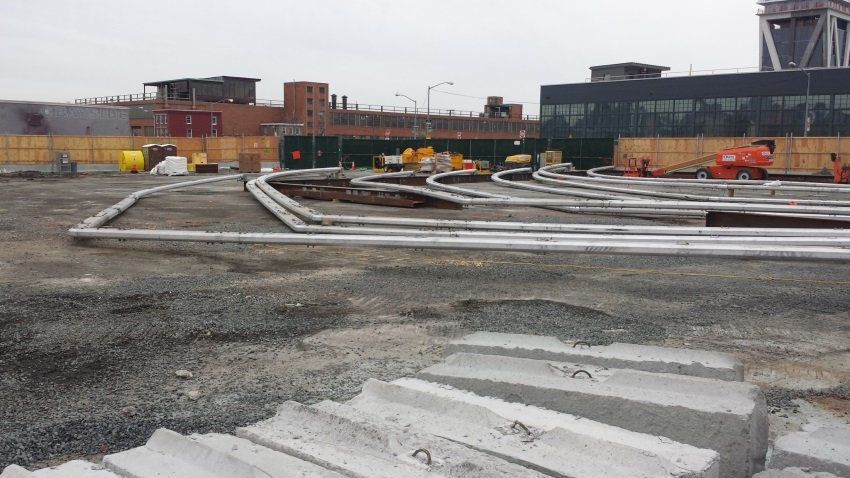 Assembling the TCB superstructure frame
Conduits installed for electrical service on Site