About the Williamsburg former Manufactured Gas Plant Site
Gas used for cooking, lighting, heating and commercial purposes was manufactured at the Williamsburg Manufactured Gas Plant (MGP) from approximately 1887 through the late 1930's or early 1940's. Historical records, while incomplete, indicate that an independent company operated the plant before that company merged to form Brooklyn Union Gas in 1895. The plant used coal and petroleum products to create a flammable gas which was piped into the surrounding neighborhoods. After the property was sold by Brooklyn Union, it was subdivided and now has multiple private owners and uses, including commercial and warehouse operations and a former City of New York Department of Sanitation garage. National Grid is responsible for the investigation and remediation of the site because it was operated by a predecessor company (Brooklyn Union) at the time MGP-related contamination occurred.
This website provides information on the Williamsburg former MGP Site, the Remedial Investigation of the site, and opportunities for public participation. National Grid is committed to the protection and enhancement of the environment, always seeking ways to minimize the environmental impacts of our past, present and future activities. We hope this website, a part of our public participation and outreach efforts, is helpful and informative. If you need additional information or have suggestions to make our website better, please contact the individuals listed under Contacts.
For more information about the New York State Department of Environmental Conservation's Manufactured Gas Plant Site program go to: http://www.dec.ny.gov/
chemical/8430.html
Site News and Updates
Hotline Number Update
National Grid is committed to keeping the community informed of any activities at the site. We will continue to post updates on this project website. Please note that the National Grid Hotline for the Williamsburg former MGP Site has changed. Any questions pertaining to the site can be posed by calling the new number at (718) 982-7349.
Williamsburg Works Interim Remedial Measure
NAPL Recovery Wells
The non-aqueous Phase Liquid (NAPL) Recovery Well installation and development field work for the 50 Kent Avenue Interim Remedial Measure (IRM) includes the installation of recovery wells to recover coal tar at the 50 Kent Avenue property of the Former Williamsburg Works MGP Site.
Update for the Week Ending May 19, 2017
Site Restoration Underway
On-going activities:
Continued the application of water for dust control;
Maintained erosion and sediment (E&S) controls (Installed waddles - wood chip and straw filled fabric tubes - around the Site perimeter to prevent silt and sediment from leaving the Site);
Continued final grading of select fill in preparation for top soil placement;
Continued the import and stockpiling of top soil on Site;
Continued the installation of Site fencing;
Continued decontaminating and demobilizing equipment from the Site; and
Continued Site perimeter preparation for new fencing and damaged sidewalk replacement.
Recently Completed
:
Completed the shipment of vacuum boxes of sediment from the WTP storage tank decontamination to Bayshore Soil Management (BSM) for treatment and disposal.
Upcoming activities:
Remove the sound attenuating barrier around the perimeter of the Site;
Place and grade topsoil;
Hydroseed the Site;
Replace damaged sidewalks along N. 12th Street, Kent Avenue, and N. 11th Street; and
Complete the demobilization of equipment from the Site and support areas along N. 12th Street.
Community Air Monitoring Plan Summary
Community air monitoring, initiated on Tuesday, December 1, 2015, continues as intrusive (ground disturbance) activities are conducted.
There were no 15-minute Action Limit exceedances for Total Volatile Organic Compounds (TVOC), Particulate Matter (PM-10) [dust], or odors.
If you have any questions or comments about the work on the Site, please use the Williamsburg MGP Telephone Hotline at (718) 982-7349.
Photos of Activity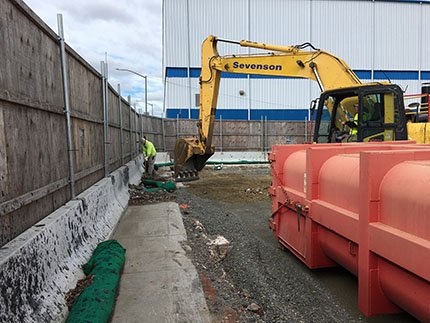 Cleaning around the Site perimeter in preparation for fence and sidewalk installation.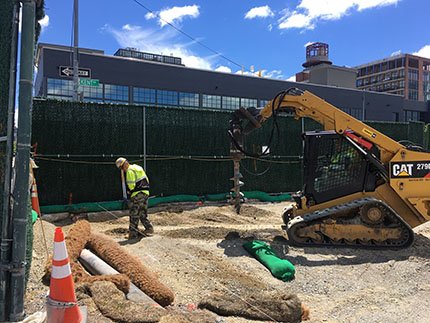 Drilling to install Site fence posts.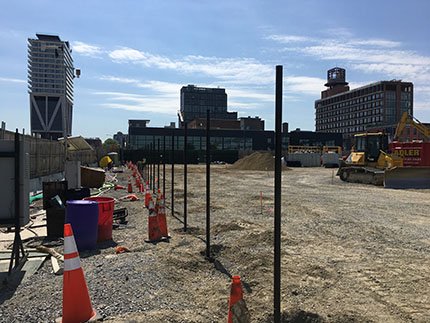 Installing fence posts along N. 12th Street.

Grading select fill backfill in preparation for top soil placement.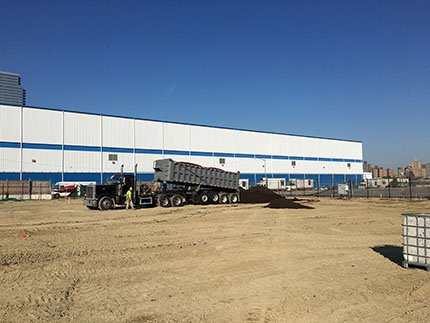 Offloading top soil on Site.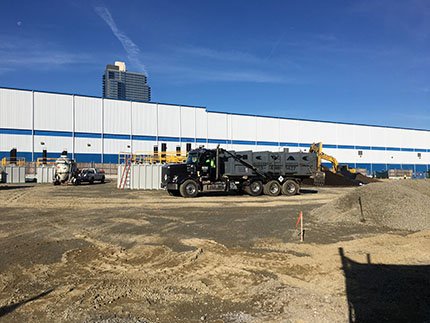 Shipping sediment vacuum boxes to BSM for treatment and disposal.