Update for the Week Ending May 19, 2017
Site Restoration Underway
On-going activities:
Continued the application of water for dust control;
Maintained erosion and sediment (E&S) controls (Installed waddles - wood chip and straw filled fabric tubes - around the Site perimeter to prevent silt and sediment from leaving the Site);
Continued final grading of select fill in preparation for top soil placement;
Continued the import and stockpiling of top soil on Site;
Continued the installation of Site fencing;
Continued decontaminating and demobilizing equipment from the Site; and
Continued Site perimeter preparation for new fencing and damaged sidewalk replacement.
Recently Completed
:
Completed the shipment of vacuum boxes of sediment from the WTP storage tank decontamination to Bayshore Soil Management (BSM) for treatment and disposal.
Upcoming activities:
Remove the sound attenuating barrier around the perimeter of the Site;
Place and grade topsoil;
Hydroseed the Site;
Replace damaged sidewalks along N. 12th Street, Kent Avenue, and N. 11th Street; and
Complete the demobilization of equipment from the Site and support areas along N. 12th Street.
Community Air Monitoring Plan Summary
Community air monitoring, initiated on Tuesday, December 1, 2015, continues as intrusive (ground disturbance) activities are conducted.
There were no 15-minute Action Limit exceedances for Total Volatile Organic Compounds (TVOC), Particulate Matter (PM-10) [dust], or odors.
If you have any questions or comments about the work on the Site, please use the Williamsburg MGP Telephone Hotline at (718) 982-7349.
Photos of Activity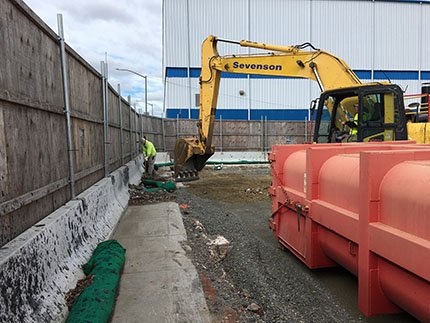 Cleaning around the Site perimeter in preparation for fence and sidewalk installation.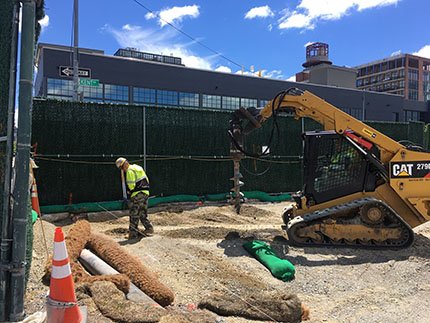 Drilling to install Site fence posts.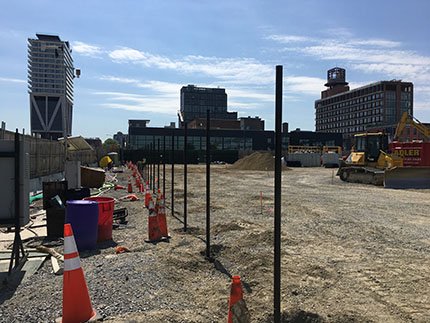 Installing fence posts along N. 12th Street.

Grading select fill backfill in preparation for top soil placement.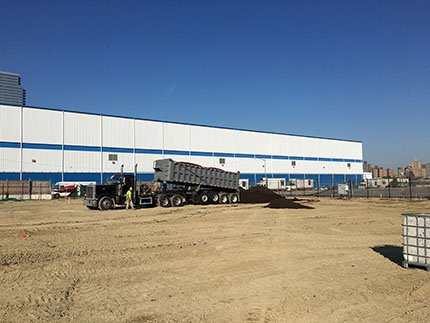 Offloading top soil on Site.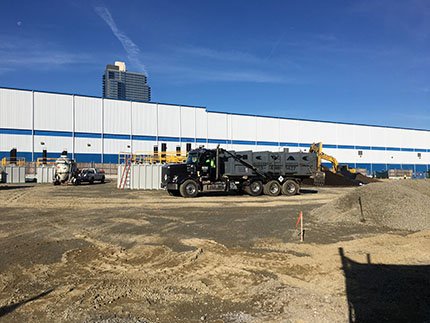 Shipping sediment vacuum boxes to BSM for treatment and disposal.