Update for the Week Ending December 16, 2016
Site Remediation Continues
On-going activities:
Continued the application of water for dust control;
Continued the application of foam and BioSolve for Total Volatile Organic Compounds (TVOC), Particulate Matter (PM-10) [dust], and odor control;
Maintained erosion and sediment (E&S) controls (Installed waddles - wood chip and straw filled fabric tubes - around the Site perimeter to prevent silt and sediment from leaving the Site and covered all stockpiles);
Continued pumping from the decontamination pads, excavated areas, sumps and dewatering wells to the water treatment plant (WTP);
Continued operation of the WTP and discharge to the sewer;
Continued deep excavation within the support of excavation (SOE) wall in the temporary containment building (TCB); and
Continued lining and loading trucks and shipping impacted soil to Bayshore Soil Management for treatment and disposal:

182 trucks; 4,345.90 tons shipped last week; and
48,276.37 tons shipped to date.
Recently Completed:
Completed crushing and stockpiling reuse material to be used for backfill in the deep excavation.
Upcoming activities:
Initiate backfilling the deep excavation with crushed and stockpiled reuse material; and
Complete excavation and backfilling in the western shallow excavation area.
Community Air Monitoring Plan Summary
Community air monitoring, initiated on Tuesday, December 1, 2015, continues as intrusive (ground disturbance) activities are conducted.
There were no fifteen-minute Action Limit exceedances for Particulate Matter (PM-10) [dust], Total Volatile Organic Compounds (TVOC), or odors during this reporting period.
The Action Limit for Particulate Matter (PM-10) [dust], was exceeded at AMS-3 on December 15, 2016 at multiple times throughout the day.  High winds were observed directing visible plumes of dust from the clean backfill areas towards the station. Calcium chloride was applied to the Site surface to suppress dust levels.
The Action Limit of 1.0 ppm for benzene was exceeded at AMS-3 on Saturday, December 18, 2016 from 6:49 to 6:51 am. During this time, no Site activity was taking place, and the winds were calm.
If you have any questions or comments about the work on the Site, please use the Williamsburg MGP Telephone Hotline at (718) 403-3053.
Photos of Activity

Crushing and stockpiling reuse material and applying water for dust control.

Guiding lined trucks into the TCB to load with impacted soils.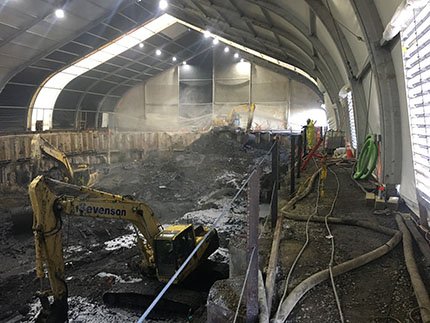 Excavating and stockpiling impacted soils and applying BioSolve for VOC control in the TCB.

Excavating and removing impacted soils from the SOE wall sheet piles.

Stockpiling and loading lined trucks with impacted soil in the TCB.

Washing the lined and loaded trucks at the decontamination pad prior to leaving the Site.